One of a kind pieces make up this exceptional collection. Enjoy the luxurious experience of wearing alpaca garments. You'll fall in love with the clothing made from the fleece of these beautiful gentle creatures.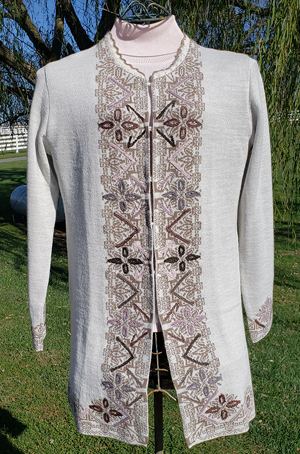 The London
Beautiful sweater with hidden buttons and soft hand embroidery details. Bottom design and cuff design adds to the look. Great with leggings. Hand wash cold and lay flat to dry.
Size: Medium
$148
The Simplicity
The picture says it all. Soft fawn color with pattern woven into the shawl color. Different textures come together in this elegant piece. Hand wash cold. Lay flat to dry.
Size: Medium or Large (limited stock)
$190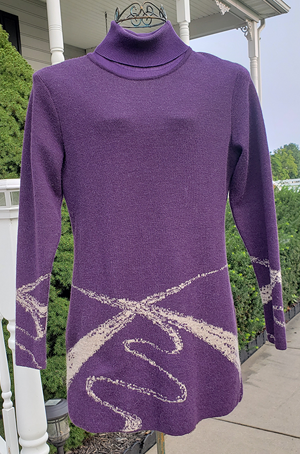 Tunic
Easy to wear and great with leggings. Purple with a splash of gray across the bottom. Hand wash cold. Lay flat to dry.
Size: Small
$170
The Countess
A design for for any occasion. Floral pattern on the front, collar, cuffs and hem. Cozy and light weight with a zipper closure. 100% Baby Alpaca. Hand wash in cold water. Lay flat to dry.
Size: Medium
$145
The Venetian
Stunning for any occasion with an eye catching pattern in gold on the front, collar and cuffs. Style and refinement all in one. 100% Baby Alpaca. Hand wash cold. Lay flat to dry.
Size: Medium
$148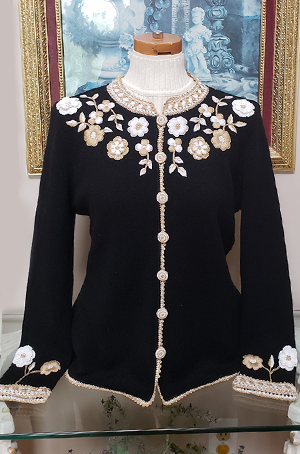 The Golden Blossom
Exquisite piece with tremendous hand tooled work. Champagne and white roses compliment the black of the sweater. There is even a rose dipping over a shoulder. The only "dress up" sweater you need. There is only one, don't miss out! Dry clean
Size: Medium
$160
The Vari
Classic black mid length sweater with beautiful design on the white collar. Baby alpaca warmth and softness. Dry clean.
$170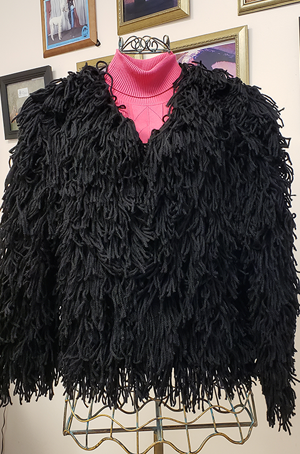 The Party Alpaca
A fun jacket with loads of alpaca fringe. Each piece of "fringe" is hand tied into the jacket. Warm and easy to wear with hidden buttons. Be the "Party Alpaca " at your next get together. Dry clean.
Size: Medium
$160
Silk Purse
Exquisite silk purse with a beautiful red and gold medallion design. Small mirror inside. Spot clean.
$40
*Not everyone can wear natural animal fiber.
Just wanted to say that we have been purchasing from Bellasera Fashions for years & they have beautiful clothing with classic designs and great customer support. Catherine is just wonderful to work with. We're always waiting with bated breath for the current year's designs & colors to be announced so we can purchase something new.

—Ruth B.