Winters are a lot easier to bear with the warmth of an alpaca scarf. Offered in a variety of colors and styles, treat yourself to the fashionable comfort of alpaca.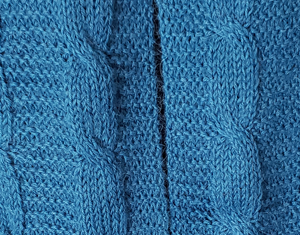 Cable Knit Scarf
A soft, warm and durable Alpaca scarf with a cable design. Approximately 70″ long and 7″ wide. Hand wash in cold water with baby shampoo. Lay flat to dry.
Colors available: Cream, Turquoise
$38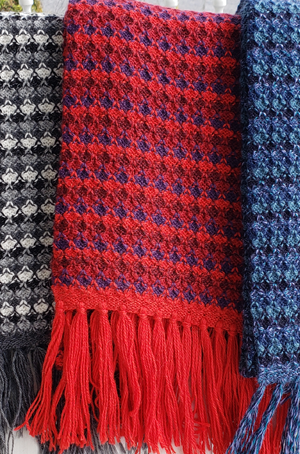 Diamond Scarf
Be stylish, warm and ready for the fall chill in the air with soft, warm hand knit alpaca scarves in beautiful colors. Approximately 66″ (before fringe) by 8.5″. Handwash and lay flat to dry.
Colors available: Gray/Black, Blue/Black, Red/Purple
$45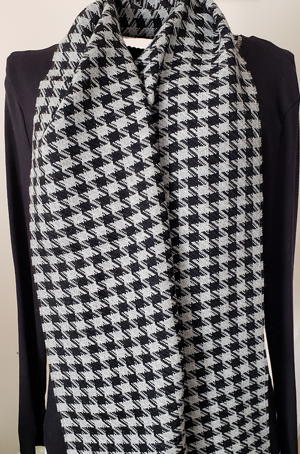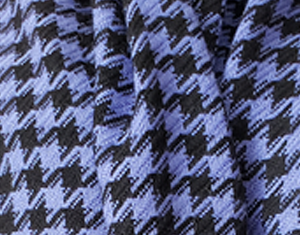 Baby Alpaca Dress Scarf
Super soft, warm, versatile and lightweight. Approximately 74″ long and 12″ wide. Dry clean only.
Colors available: Black/periwinkle houndstooth, Gray/navy houndstooth, Pink/black houndstooth, Burgundy, Gray and Blue Plaid
$65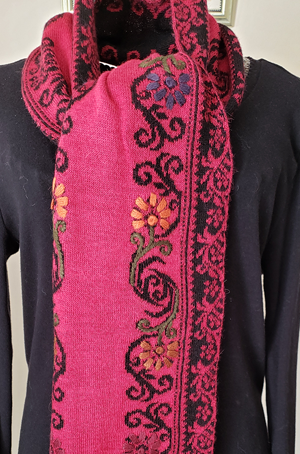 Ana Scarf
This is a reversible, hand embroidered dress scarf. Warm and versatile. Dry clean only.
$68
Shanti Scarf
100% baby Alpaca, hand dyed in a variegated color pattern. Light weight and ready to wear. Hand wash cold and lay flat to dry.
Colors available: Blue, Green, Burgundy
$70
*Not everyone can wear natural animal fiber.
Bellasera Alpaca Fashions offers beautiful items that are soft, warm and easy to wear. Catherine has a talent for color draping so every piece compliments the woman wearing it.

-Iris B